20. – 23. Januar 2016, 19:00 | Schnürschuh Theater, Buntentorsteinweg 145, 28201 Bremen
Performance: Culture Vultures Newsletter
Parlement of Foules blowing up a January storm
The Tempest
2016 is another celebratory Shakespeare year, with the 400th anniversary of the Bard's death in April. To mark this, Bremen's own Parlement of Foules will be putting on The Tempest, one of his last plays, and certainly the last of the well-known ones.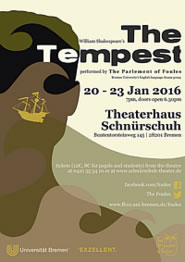 Doors open at 6.30; performances begin at 7 p.m.
Tickets (€12; €8 for pupils and students) can be booked direct from the theatre (0421 55 54 10).
Director Michael Claridge has conceived a 'stripped down' version of The Tempest, meaning that they have not only taken out about 30% of the text and simplified some of the language, but are also performing with only six actors, which will make for a fast-moving, powerful evening. Almost every actor will be playing two roles, which nicely underlines the aspect of duality in the play.
As usual, the Foules have put together a Schools Pack, which includes material specifically on the play, along with material that can be used in in-class discussions before and after attending a performance. The Schools Pack has been edited by the production's Assistant Director Helena Gaubiz.
Teachers are very welcome to explore and exploit the material it contains. Any feedback would be most welcome.
For further information or feedback on the Schools Pack, contact Mike Claridge at claridge[at]uni-bremen.de
Parlement of Foules blowing up a January storm